We will be continuing our custom container planting work for the 2022 season. We will be providing a container pick up service at your home if desired or you can still bring them to us as you have done in the past. We hope to have an album of flowers and choices available for all to see, to help you in your plant selections. Stay tuned for container design workshops, where you can build your own container displays to take home immediately or to leave here for growing on.
We have been planting containers and baskets for our clients for the past 23 years. Customers drop their containers off in late April/early May and we plant and care for them, and have them ready for pick up in early June. For many of our customers, we also do custom container work on location at their homes and businesses.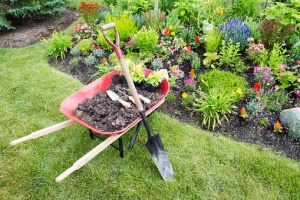 NEED A LITTLE GARDEN HELP?
Farmer Brown's provides professional gardening services that save you time. You don't have to worry about finding the time to keep your gardens free of weeds or manicured the way they should be. Let our trained professionals take on your garden maintenance; including weeding, cultivating, and edging your flowerbeds to make sure your property looks its best. Properly maintained gardens and plants will be healthier and you will enjoy more colorful blooms all season long. Get the garden you want without a sore back or sunburned shoulders !
Contact us at 734-1908 or message our Facebook page and one of our staff will be able to assist you
Some of the container design from the 2021 season !