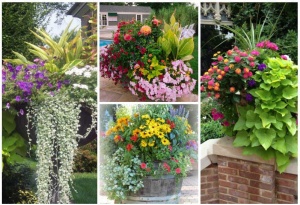 Our Spring container design workshops will begin Tuesday evening May 10th and will continue through to the first week of June. There will be 2 sessions held each week, and we ask that you pre register in advance as we must limit participants to 15 per workshop. This is an opportunity to plant up your containers for the spring/summer season, with our experienced staff and have them help guide you in your selection of flowers.
There will be a $10.00 (plus tax) fee to attend the workshop, along with flowers and soil used. You are welcome to bring your own containers. We also have a large selection of containers here to choose from if you would like. Your finished containers can be taken home the day of the workshop or remain here to be grown on for an additional fee.
Workshops will be held Tuesday and Friday evenings at 5:30 pm, starting May 10th until June 10th.
To secure your spot, please send a message directly to our Facebook page with your phone number and email or text 506-878-9285.